NEWS
Scotty McCreery Feels a "Brother/Sister Thing" With Lauren Alaina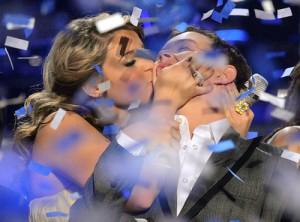 Since Lauren Alaina planted a big smooch on Scotty McCreery's lips when he won American Idol, the dating rumors have skyrocketed. But both parties have put the rumors to rest. Scotty opened up about his relationship with Lauren during a press conference after his Idol coronation.
"We've been getting that question a lot," Scotty said of the dating inquiry. "Me and her — it's more like the brother/sister thing. She told me before the show yesterday she was going to do that kiss me, kind of like a joke."
Article continues below advertisement
But Scotty still has a love for Lauren.
"She's a character. She's lovely. Really, we're really close friends," he explained. "I met her day one of Hollywood week. We were school mates through this whole experience. She's great–but it's more of a brother/sister friendship between me and her."
Lauren shared a similar sentiment about their relationship and her impulse to kiss him.
"No, we're not boyfriend and girlfriend," Lauren shared yesterday on the syndicated radio show Johnjay and Rich. "I was kidding about it last night a lot, but we're just friends."
So what about that full-on kiss?
"I was just so happy and in the moment, I don't know what happened!" Lauren explained, laughing.