NEWS
Scotty McCreery Offers Lauren Alaina 'Pimp Spot' for 'American Idol' Finale!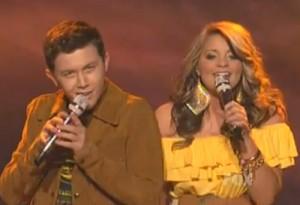 Scotty McCreery is a true Southern gentleman. The adorable 17-year-old crooner abided by the rule "ladies first" and gave fellow American Idol finalist Lauren Alaina first choice on the singing order in next week's live finale! Scotty even won the coin toss, but the polite country boy deferred the decision, letting Lauren choose!
And, of course, Lauren chose to go last, taking the coveted "pimp spot" on the American Idol stage.
Article continues below advertisement
"I felt like I was going to pass out," Lauren told USA TODAY's Bill Keveney after the results show. "I was crossing my fingers and praying host Ryan Seacrest was going to call out my name. I feel so blessed to be here, I cannot believe it."
Scotty shared: "I had so many emotions going through my head. There have been so many thoughts coming through my head this whole competition. It's just been a crazy ride.
Article continues below advertisement
"All those memories of the first audition and thinking I was getting cut in Hollywood Week, all those memories were just flying through my head," he added. "It was a wild moment."
Scotty also shared that while he wasn't sure of his Idol chances, he had no doubt that his finale partner was going to go all the way.
"Lauren — she's been my pick for a while now," he said.
But what about Scotty's chances?
"You never know what to think. This competition has been a surprise," he said. "Pia Toscano going home and James Durbin going home... there have been so many surprises this season, so you never know what to think on any given night."
And Scotty couldn't be happier about country music taking the Idol stage by storm.
"It's been a wild ride for me and her both and for everybody on this show," Scotty said. "We're both glad to be here and humbled to be still in the running and humbled that America keeps us around. It's two youngsters in it this year. It's a minor country finale."