NEWS
Screen Actors Guild Awards Announce Star Presenters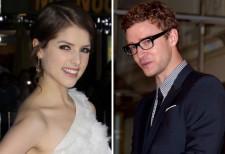 The Screen Actors Guild Awards have taken on more stars to be presenters at the 16th annual awards show. Sigourney Weaver, Justin Timberlake, Kyra Sedgwick, Ray Romano, Jeremy Renner, Carey Mulligan, Anthony Mackie, Anna Kendrick, Felicity Huffman and Brian Geraghty are the new set of celebrities joining the previously announced group.
Those already on board as presenters include: Alec Baldwin, Sandra Bullock, George Clooney, Jane Lynch, Michelle Monaghan, Chris O'Donnell, Anna Paquin, Meryl Streep and Stanley Tucci.
Article continues below advertisement
Sigourney is a two-time SAG Award nominee and can currently be seen in Avatar and the film Crazy on the Outside. This year she's nominated this year for her lead performance in the Lifetime television movie Prayers for Bobby.
Justin has earned rave reviews for his Saturday Night Live characters and sketches and is currently filming The Social Network.
Kyra, a SAG Awards nominee, currently stars on the TNT series The Closer. and has earned two nominations this year for both female lead and ensemble performance.
In his first SAG Awards appearance, Jeremy has been double-nominated for his lead and cast performances in The Hurt Locker.
First-time nominee Carey has received her first nomination for her lead role and ensemble performance in An Education.
Anthony is receiving his first SAG Awards nomination for his ensemble performance in The Hurt Locker.
Anna is nominated in the supporting category for her first SAG Award nomination for her work in Up in the Air.
Article continues below advertisement
The 16th Annual Screen Actors Guild Awards ceremony will be broadcast live on both TNT and TBS from the L.A. Shrine Exposition Center on Saturday, Jan. 23 at 8 p.m. (ET/PT).
But, in case you miss that, an encore presentation will air on TNT at 11 p.m. (ET/PT).