NEWS
Scrubs Creator Promises a Finale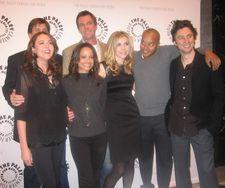 The cast of Scrubs, who are currently starring in the 7-year-old series final season, continued their farewell tour this Saturday in New York City. They spoke to die-hard fans about their show experiences at the fourth annual New York Comedy Festival, held at the Paley Center for Media in midtown Manhattan.
It wasn't all heartbeats and giggles for the tight-knit cast. As the writers' strike looms with no definitive ending in sight, Scrubs may not get to play out its full season, and more imprtantly, get a proper series finale. Show star Zach Braff thinks it's a shame that stalled negotiations could "end up canceling the end of our season."
Article continues below advertisement
Cheer up J.D.! According to series creator Bill Lawrence, even if the writers' strike does prevent the show from having a final episode, he's going to find a way to bring it closure, possibly by reading the final scripts on the web. And Bill's still "holding out hope that level heads are going to prevail and the show is going to get to end," he shared.
Thank goodness. I may need to check into a hospital if this show doesn't get an ending -- and I never find out the Janitor's real name!
Scrubs airs Thursdays at 9:30 p.m. on NBC.