NEWS
Seal on Getting Back Together With Heidi Klum: "Never Say Never"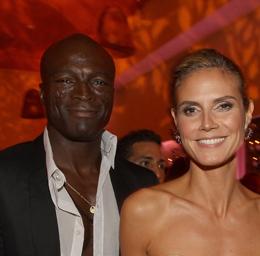 Heidi Klum and Seal may have decided to separate, but it appears that Seal has not given up all hope on saving the marriage.
The soul singer said yesterday on CNN's Piers Morgan Tonight that divorce is not on his mind.
OK! NEWS: HEIDI AND SEAL CONFIRM SEPARATION: "WE HAVE GROWN APART"
"My love has not waned one iota. I love her with all my heart," the singer said on the show. "How can you not love somebody who you have just spent eight years with?"
Article continues below advertisement
Piers Morgan, of course, asked Seal if they would ever reunite.
OK! NEWS: HEIDI KLUM GOES TOPLESS ON VACATION WITH HER HUSBAND SEAL & THEIR KIDS
Seal responded, "You can never say never. I can't speak for my wife and I'm not going to sit here and BS you and tell you we haven't had problems. Of course we have had problems, otherwise why have we split up?"
"Why" is the question everyone has been asking. After all, Seal and Heidi were always showing off their love from renewing their vows every year to public displays of affection at red carpet events.
The singer told Piers that, of course, he is still wearing his wedding ring. Seal explained, "I'm still wearing my wedding ring because I'm still married to this incredible woman."
Heidi has one daughter, Leni, from a previous marriage, as well as three children with Seal: Henry, Johan and Lou.
Can they make it work?