NEWS
Sean Penn to Jeremy Renner: "You Were Tremendous in 'Hurt Locker' "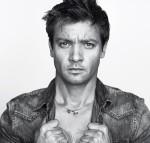 Jeremy Renner is turning heads everywhere he goes including the heads of some Sean Penn and Ben Affleck, who have nothing but nice things to say about his acting.
OK! GALLERY: THE TOWN CAST BRINGS FILM BACK TO HOME BASE — BOSTON!
"The first one, and the craziest one," Jeremy recalls in the new issue of GQ, "was Sean Penn. I was backstage at the Palm Springs Film Festival, and it was really dark back there, and he comes over and gets in my face. And he's like, 'Dude, you were tremendous in Hurt Locker. You're going to the afterparty, right? 'Cause me and you are gonna have a few drinks, and I'm gonna talk to you.' "
Article continues below advertisement
And Ben wanted to talk to Jeremy too and then decided to cast him in The Town!
"He's somebody who audiences aren't so familiar with that they bring a set of expectations — like, 'Okay, I know that at the end of so-and-so's movies, A, B, and C happens,' " Ben says of his co-star Jeremy. "He's still really enigmatic and mysterious."
OK! GALLERY: THE TOWN STARS CLOWN AROUND IN VENICE
But as wonderful as stars and fans say Jeremy is, he's not ready to quite his day job of home-renovations just yet.
"It feels good to have your money invested somewhere else,"Jeremy explains, "and then say, 'Fuck you, I don't need your damn movie.'"