NEWS
Sean Penn Speaks Out from Haiti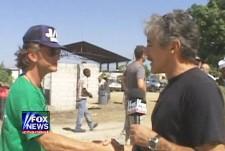 While many of Hollywood's best have been rallying together to raise money for the relief efforts in Haiti, Sean Penn has taken the reconstruction fight to the ground. Sean has visited the the crisis-inflicted region to urge the continued outpouring of international aid and to underscore the need for support.
Worried that people will quickly forget about Haiti's dire need for assistance, the iconic actor tells FOX News Channel's Geraldo at Large, "It can also be said that Haiti's quite used to having the spotlight come off of them. It's had needs for a long time. But I hope that it will refocus, that this is one of our neighbors."
Article continues below advertisement
Sean, who describes the aftermath of the quake as a complete "horror," is amazed by the military's efforts, but knows that more has to be done to help those all over Haiti.
"The military that I've been dealing with, the 82nd Airborne, are people that got me aspiring to a new level," Sean tells Geraldo Rivera in Haiti. "However the mission is still contained, is focused in the public epicenter. And yet there's masses of people in the outlying areas that are still phase one."
Insisting that relief efforts must also focus on smaller, outlying towns aside from the main Port-au-Prince area, Sean explains to FOX News Channel, "The mission is so centered on Port-au-Prince that some of the other areas, the epicenter areas, are being under-serviced. It's just a complicated situation. But I think it has to be continually reported that Port-au-Prince is not all of the issue."
Towns all over the poverty-stricken region including, "Port Au Prince still has major emergencies – infections, communicable diseases, concerns," Sean reveals while on Geraldo at Large in an attempt to raise awareness.
Article continues below advertisement
And while this activist actor knows much has already been done to help, the situation has become more dire, with citizens dying every single day.
"It's still phase one injuries and traumas. And where broken legs are suddenly becoming compound, where bones are breaking out of the skin and infections are coming. And this is happening on a daily basis. People are dying by the thousands a day," Sean tells Geraldo at Large amidst the wreckage.
After all is said and done, Sean just wants to help as much as he can and knows how much the press has done to spread the word.
"I think that the positive reporting, reporting of positive actions by the United States…I can say has been unbelievable, unbelievable – and meant and felt," he says.
Catch Sean Penn's full interview on FOX News Channel's Geraldo at Large tonight at 10 PM ET.