NEWS
Sean Stewart on Celeb Rehab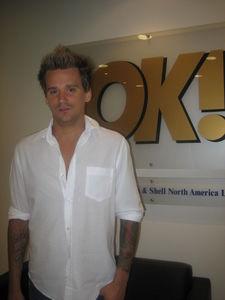 Rocker son Sean Stewart isn't afraid to talk about his demons. He's facing his on the second season of Celebrity Rehab with Dr. Drew on VH1.
Sean stopped by the OK! office for a candid discussion on battling addiction and getting better. He also revealed his secret TV crush.
Why are you doing the show?
I was sober before I went in there and I haven't really done drugs in years. It was more for me to go on and just help others out and deal with some other issues in my life that I have to deal with.
Article continues below advertisement
When you walked through the Celeb Rehab door and you saw that this was going to be a real rehab experience, what was the first thought that ran through your mind?
Someone get me the hell out of here! (laughs) I was thinking this is going to be Groundhog Day, every da. Walking in and having the cameras around me all the time made me nervous. I was quite scared. This is basically The Surreal Life meets drug rehab meets bury your soul to the world.
What did you learn from the experience?
I'm more grateful for my life. What I've learned about the disease of alcoholism is that we're more sensitive to other people and we live more in fear. We don't go after our dreams because we're afraid of success and we're afraid we will fail and be rejected. For so long I was self medicating myself because I didn't want to deal with the real world, but it's time for me to be a 27-year-old man and go after my dreams in life.
Article continues below advertisement
Why is addiction so prevalent in Hollywood?
I don't think it's just the Hollywood scene. It's everywhere. It is something you're born with; it's passed down within your family. It's like a cancer. And it's something that each person has to deal with. You want to get sober or you don't.
How have you changed your life since going through Celebrity Rehab?
Every day I wake up and pray. Then I go to an AA meeting. It's not just about me going to the meeting. It's about going in there and helping someone who has less time than you.
What kind of support did you family give you during your stint on the show?
Tons! My mom is the more understanding one. My dad didn't really understand it and now he understands a little more.
How is your relationship with your dad, Rod Stewart?
My dad and I have always had a great relationship. We talk almost every single day and hang out when he's in town. We have breakfast and do father and son stuff, like play soccer. I'm actually a very good soccer player. I could show David Beckham a few things.
Article continues below advertisement
What are you doing now that you've finished the show?
I'm working on a clothing line. We're going to start with men and then maybe go with women's. I want to make affordable clothing similar to the stuff that celebrities wear.
Anything else?
I want to write a book called the Long Road to Happiness. It will show that anybody can do anything if they put their minds to it. It's going to talk about everything, crazy stories that I don't want to tell you yet.
Is there someone special in your life right now?
No, I'm single.
What are you looking for in a woman?
Someone like my mom. She's such an amazing woman, strong, giving, caring, supportive, loving, Every man ends up with a woman that's like his mother.
What celebrity would you like to go out with?
Leighton Meester from Gossip Girl. She's hot!