NEWS
Seann William Scott On 'American Reunion': "You're Going To Be Blown Away!"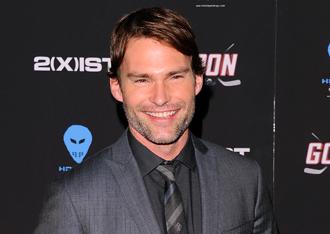 At last night's Goon premiere sponsored by 2(X)IST in NYC, star Seann William Scott broke up the hockey talk to exclusively give new details on the much anticipated American Reunion film.
"It's awesome," Seann told OK!. "Even if you're an American Pie hater, whatever, or didn't like the franchise, you're going to love the film. It's just a great stand-alone comedy. If you do like the American Pie films, you're going to be blown away because we set out to make a great comedy."
Article continues below advertisement
"I thought it was going to be awesome when we filmed it and then I watched it, I was blown away because it was hilarious, but it's got a lot of heart. The performances are great. I think you'll be surprised."
OK! NEWS: 'AMERICAN PIE' 4, 'AMERICAN REUNION,' PLOT DETAILS REVEALED!
Seann also dished to OK! that this new film is very closely related to the first American Pie movie. "It almost feels like it could be a direct sequel to the first one. It has a lot of heart and there's some substance to it. There's people dealing with real s**t. It's f**king funny, it's f**king good."
Was it easy to get back into playing the infamous Steve Stiffler? "It was fun to do, but it was hard at first because I'm 35 and to maintain that energy, I had to drink a lot of red bull and coffee. It was weird."
OK! NEWS: SEANN WILLIAM SCOTT SIGNED ON TO 'AMERICAN PIE' DESPITE REHAB
"Kind of edgy method, like this character's exhausting!" Seann said laughing, "Because you can get away with anything with that guy. Way more fun to do in his thirties than when he was younger. He doesn't have to be the jock anymore."
You can catch Seann's new film Goon out on March 30 and on VOD today.