NEWS
Sean's Man-on-Man Smooch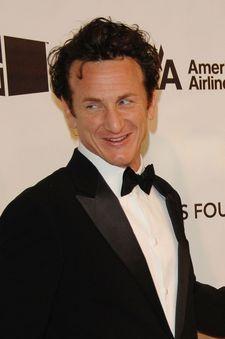 In the new Gus Van Sant-directed film, Milk, Sean Penn shares a steamy kiss with co-star Mark Martinez, who says the Oscar-winner let the lip-lock go on a little longer than expected.
"I'm performing, and Penn comes onto the dance floor," Mark tells E!. "He grabs me, and he just slaps the biggest kiss on me...It felt like the kiss was forever. I'm like, is he going to stop? I had to close my eyes, I couldn't believe it."
Article continues below advertisement
In the film, Martinez plays the late cross-dressing disco singer Sylvester. In one scene, the actor, dressed in a purple, blue and silver kimono with a matching turban and black bell bottoms, performs Sylvester's 1978 hit, "You Make Me Feel (Mighty Real)"
"All of a sudden, Sean's pointing at me and he's talking to the assistant director," Martinez explains. "The assistant director comes up to me and says, 'Just to let you know, you are now going to break up Sean and co-star James Franco's conversation. You're going to grab Sean, and Sean's going to be really excited, and he's going to kiss you.'"
Martinez, whose professional name is Flava, tried to convince Van Sant to do another take. "I'm thinking, we gotta do this thing again. We just didn't get it right," Martinez says. "But Gus was like, 'It's perfect, perfect, perfect.' I said, 'No! It's not perfect! Sean was laughing at me!'"
It seems that Penn's lips have been working overtime lately! As , the oscar winning actor was spotted smooching a mystery woman outside the Westin St. Francis Hotel in San Francisco on Tuesday. Eyewitnesses say the unknown brunette accompanied Sean out of the hotel, kissing him goodbye before he jumped into his sports car and zoomed off.
In Dec., the actor announced that he and wife Robin Wright after 11 years of marriage. In Feb. he raised eyebrows when he showed up at an Oscar party with , igniting speculation that the two were an item.