NEWS
Secret NYC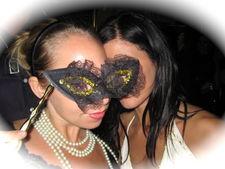 One of my many favorite things about New York City is the things that you don't see. At any moment there is an amazing private party, unadvertised event or once-in-a-lifetime performance in some posh penthouse or behind the closed sign on the door of an underground bar.
It's in these moments that I fall in love with New York City all over again. I had one of these moments this week. Two days before Thanksgiving I went to a friend's birthday dinner at Buddha Bar and as she was blindfolded and being walked across the street to a 'surprise' after party at tenjune I was whisked into a cab by my friend Laura to go to a ball. Literally, a ball - minus the dancing. It was already after midnight and she gave me 15 minutes to run up to my apartment, change into black tie evening wear for a costume required masquerade ball.
Article continues below advertisement
It's amazing what one can do with a versatile vintage black dress, crinoline from an old halloween costume, a fancy headband, heels, dark lipstick - and a masquerade mask.
Twenty minutes after being in a cab in 'work clothes,' we were in formal attire walking past the velvet rope at swanky downtown lounge Gold Bar and sipping Dom Perignon as we tried to figure out the faces behind the other masks. We didn't notice Gossip Girl star Leighton Meester until Laura got a text she was there the next day. And unfortunately neither of us kissed a prince, but it was definitely one of those New York moments...or just another Tuesday night out and about in NYC ;) xo