NEWS
Secret or Coincidence?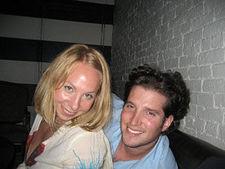 On the roughly 30 minute subway ride to the US Open, the girls and I got on subject of our love lives- or in the case of all but one of us- the absence of one. We all agreed that it wasn't so much boyfriends we necessarily wanted (not that we were against the idea if the right guy was there in front of us), but we would definitely like to at least have crushes.
Crushes are fun. When you have a crush you have someone to look forward to maybe receiving a call from that will make your heart momentarily leap, you get giddy when you see their name in your inbox, you justify the new outfit, in case you run into them and fantasizing about a crush is an often welcome distraction from more pressing things in your life.
Article continues below advertisement
With that in mind, besides catching a great tennis match, we were also hopeful we would meet cute boys while at Aurthur Ashe Stadium on a Saturday night. Not even there yet and already dreading what would be a sardine-packed subway ride home, I said, 'Well, hopefully we can at least meet a cute boy to drive us back to the city!'
All the while on the subway I was texting with my friend Matt White. If you don't know the name now, trust me that you will soon. A musician in the vein of Jason Mraz and John Mayer, who he's already toured with before even releasing an album, Matt's one of the most talented musicians I've had the pleasure of hearing in a very long time. Check out his music yourself at mattwhitemusic.com.
Matt, who primarily lives in LA, sometimes in NYC and has been on a radio tour across the country for months, had text me the previous night that he'd be in Manhattan Saturday and asked me to hang out. On the subway he told me to text him when I was heading back from the Open. At about 11pm I text him, "We're getting ready to leave Queens and head back to the city, what are you up to?' The rest of the text went something like this:
Article continues below advertisement
Matt: Just landed, what were you thinking of doing?
Me: (a response that never went through)
Matt: You want me to pick you up? I have a nice SUV
Me: Yes!
Matt: K, will be there in ten minutes. Meet me in the circle in front of Arthur Ashe.
Sure enough, ten minutes later, after we made our way past the throngs of people making their way to cram on the subway, Matt pulled up in a shiny black Escalade and told us, "Tell my driver Gus where you need to go." Ironically, Matt had luggage, and after starting the day on a radio show in Chicago followed by a show with Mandy Moore in Houston before flying to New York, he was tired- so he just dropped us off before going home himself."
We didn't meet any cute boys at the open, but we did get a ride home from a cute boy. The Secret or coincidence?