NEWS
Secrets from the Lipstick Jungle Set, Part I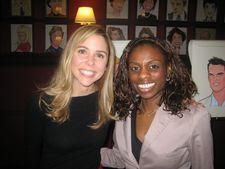 Lipstick Jungle is 14 days away and counting! I'll be bringing some of the hottest interviews from the set here over the next two weeks, so check back often!
Now any time I can bring Broadway and TV together is a perfect day for me. So I'm psyched that Broadway star Kerry Butler, who currently stars in the lead role of Xanadu, the musical, is slipping off her roller stakes and slipping into her Jimmy Choos to star on the highly anticipated NBC series. Kerry stars as Reese, not-so-faithful assistant of fashion designer Victory Ford, played by Lindsay Price.
Article continues below advertisement
"I start out as this good girl, this sweet assistant, but I end up stabbing her in the back," Kerry confided to me while she was being was immortalized as a cartoon drawing, which will be on display on the famed walls of Sardi's Restaurant in midtown Manhattan. Kerry and Lindsay even throw down in a future episode. "We get into a fight, it should be crazy," she says.
Kerry can be seen six nights a week as irresistible Greek muse Clio/Kira, who comes to earth and falls in love with a mortal, in the stage remake of the campy 1980 film starring Olivia Newton-John. "It's like nothing like I've ever experienced before. I'm on roller skates the whole time, and everybody gets glow sticks at the end, so it's really like a big party," says Kerry.
And a party it was! I'm still singing the theme song and twirling my glow stick in tempo.
Lipstick Jungle premieres Thursday, Feb. 7 at 10 p.m. on NBC. Catch Kerry live in Xanadu at the Helen Hayes Theatre in New York City. Contact ticketmaster.com for information.