NEWS
Secrets of 'Sisterhood' Revealed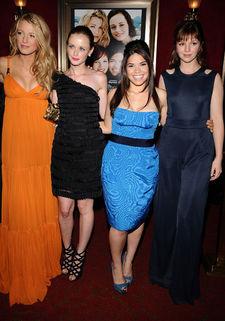 The casts of Ugly Betty and Gossip Girl are out in full force to support America Ferrera and Blake Lively during the premiere of Sisterhood of the Traveling Pants 2 held at Ziegfeld Theatre in NYC.
Ugly Betty's Ana Ortiz moves through, and here is Gossip Girl's Ed Westwick, Chace Crawford, Leighton Meester and Matthew Settle – all arriving separately to soak up the spotlight.
My, how times have changed. When the original debuted in 2005, Gilmore Girls' Alexis Bledel and Joan of Arcadia's Amber Tamblyn were all the rage. The girls traveled to Greece to shoot the sequel, which is in theaters Wednesday.
Article continues below advertisement
"I think the only thing that's changed is that Blake and I are both working and we never get to see each other – even if we're filming around the corner," America says. "We're just busy."
Blake, wearing a flowing orange dress, begs her rep to let her stop for reporters while she's being rushed inside.
"We all became such good friends," she says. "It didn't even feel like work. It was so great."
Their costars share behind-the-scenes tidbits.
"The wildest moment was when we danced," Shohreh Aghdashloo, who plays the archaeology teacher, tells me. "There was a party after a long day of archaeology, and all the friends are gathering and dancing. Blake comes and I join in and dance with her to a Turkish song. It was 1am. It was the end of the day. We truly enjoyed it. I'm still thinking about it, it was just incredible. She's talented. She learned so fast. It's just amazing. She's really good."
Article continues below advertisement
One thing Shohreh witnessed is Blake's bond with her mom.
"Her mom was calling her all the time, making sure where Blake is, what she's doing," Shohreh tells me. "I realized what a great mother she can be because otherwise you 'd think 'OK, my daughter's always working.' Blake is so humble. Usually young stars tend to upper nose. It comes with overnight fame and fortune. But there are not so many who can still stay the same, be cool, relax and just enjoy the ride. This one is."
Rebekah Aramini, who plays Alexis' mom, was on hand when the girls got into an accident.
"They collided," she says. "They were all on mopeds, and they had a little accident one day. I think it was supposed to be a little accident, and it ended up being a big accident. One of the donkeys carried Blake up the mountain to Santorini for help. Her ankle got a little swollen. I think she survived, she just couldn't walk on it for a bit."
Article continues below advertisement
Michael Grady, who plays a love interest, shares a story about America and Amber going hot-tub hopping.
"They spent one night – they had a late call the next day – jumping from roof-to-roof. Santorini … all the houses are encased in a side of a cliff. You look down and look at all the roofs. They went hopping from roof to roof like Aladdin. They went all night long going from different hotel hot tub to different hotel hot tub. Finally, the sun rose and they found themselves in some hotel but not theirs. They realized their bathrobes had their hotel emblem on them, so the maitre d' came out and said 'can I get breakfast for you guys?' and they put their bathrobes on and backed out like that so they couldn't see what hotel they were with. I was kind of bummed I missed out on that. That sounds like a lot of fun."
Sisterhood of the Traveling Pants 2 is in theaters Wednesday.