NEWS
Secrets from the So You Think You Can Dance finale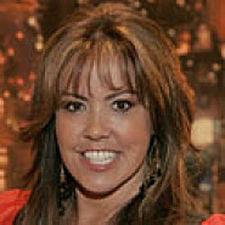 If you ever thought So You Think You Can Dance judge Mary Murphy should put her footwork where there mouth is, your wish is about to be granted.
The TV Fanatic has learned that the show is planning a huge number for its two-part finale airing Aug. 6 and 7. And Mary may be taking to the stage to appear in it.
"I am working on something that is a secret for the finale, which will probably be the biggest surprise in ten years," she told me at luncheon for the release of Core Rhythms dance exercise DVD at Dance Times Square Latin and Ballroom studio in New York City. "And it is something that involves me."
Article continues below advertisement
Mary is definitely in shape to get her groove on. Since sweating with Core Rhythms instructors Jaana Kunitz and Julia Powers, who also teach classes at Mary's studio, the Champion Ballroom Academy in San Diego, Calif., Mary's dropped 40 pounds.
"My favorite dessert when I was dancing, and I ate it almost every day, was a layers of Haagen Daaz ice-cream with hot Mrs. Fields cookies right out of the oven."
But with the pounds piling on, she decided to make a major change.
"The workout made it easy for me to go back to something I already knew how to do and it enabled me to stick with the program as well," said the former ballroom competitor. "I lost 30 pounds in about four months."
Mary loves to use her DVD on the road. "I'm so grateful that I have something that I can do if I can't get to the gym," she says.
As for the perfectly abled bodies on SYTYCD, Mary knows who she wants to take the crown this season. "I'd like to see a hip hop dancer win the show," she confesses. "I think Twitch and Josh have brought so much to the show... either of them would be a great dance ambassador."
So You Think You Can Dance, elimination round, airs Thursday at 9 p.m. on Fox.