NEWS
See Anderson Cooper & Kathy Griffin Hold Hands & Work on Their Tans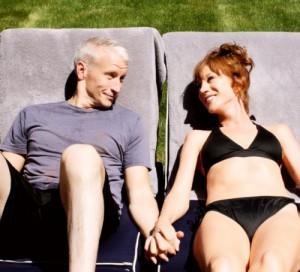 Anderson Cooper decided to have one of his favorite guests help him promote his upcoming talk show Anderson — Kathy Griffin!
Anderson posted photos on his blog of himself lying next to Kathy, working on their tans and holding hands!
In a separate photos, Anderson adjust Kathy's bikini top.
"Can u handle one more??? @Andersoncooper Yes, I'll b on @Anderson," Kathy Tweeted along with the pic.
Article continues below advertisement
Anderson premieres Sept. 12 and his special episode "Summer's Best with Kathy Griffin, Snooki & Daniel Radcliffe" airs Tuesday, Sept. 13!
Are you pumped for his new show? Sound off in the comments!