NEWS
See Ashton Kutcher Get Naked For Ellen DeGeneres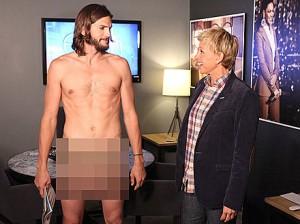 Watch out, Demi Moore! Ashton Kutcher is showing off his goods to another woman. The Two and a Half Men star bares all for Ellen DeGeneres in a backstage skit that will air on Monday's season premiere of Ellen. Demi is one lucky lady.
In the promo photo from Warner Bros., Ashton's privates are pixelated, but besides that, the photo leaves little to the imagination.
Article continues below advertisement
In the pre-taped segment taped for the Sept. 12 season premiere of Ellen's hit talk show, Ashton talks about the "All Will Be Revealed" nude ad that he did with co-stars Jon Cryer and Angus T. Jones.
"It's getting a lot of attention. So I just figured I'm going to do everything nude from now on," he tells Ellen as he drops his robe.
"I don't know if that's a good idea. Really?" the 53-year-old comedian responds.
"Yeah. Whatever I'm doing I'm just going to do it nude," Ashton quips back. "Let's do this. "
Ashton's debut episode of Men airs on Sept. 19! Will you be watching?