NEWS
See Daniel Craig Cover Topless Rooney Mara in 'Girl With the Dragon Tattoo' Poster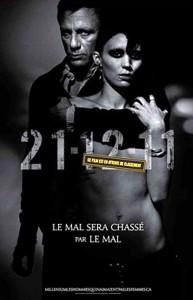 The international movie poster for the hotly anticipated film The Girl with the Dragon Tattoo has been released. The movie's stars Daniel Craig and Rooney Mara are featured front and center in the ad, with Daniel concealing a half-naked Rooney.
The poster will most likely not be used in the United States because of its racy nature.
Article continues below advertisement
Earlier this year, The Hollywood Reporter profiled director David Fincher about his work on the film, and the poster was a topic of conversation.
"Warming up — as much as he ever allows himself — Fincher takes out an iPad and clicks on a photo he's planning to use for the Dragon poster. It shows actor Daniel Craig half-hidden behind co-star Rooney Mara, who's looking directly into the camera," THR wrote in the feature, via Just Jared. "Her hair is spiky, her face pierced with rings, her body covered in tattoos. It's black and white and beautiful, but there's no way in hell any studio will ever let Fincher use it, as he knows. Because Mara is naked from the waist up."
Do you think the poster is too racy or inappropriate? Sound off in the comments!
Watch the first official green band trailer below!