NEWS
See Demi Moore's Topless Twitpic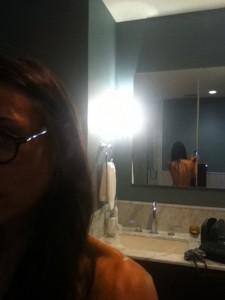 Demi Moore is no stranger to Tweeting a provocative Twitpic every so often, but her latest reveal was quite over the top!
The 48-year-old actress, who has been known to Tweet scandalous self-portraits, dropped her bikini for her latest picture.
Ashton Kutcher's wife posed topless, showing off her muscular back in a mirror.
The caption, "remember.....you've got your own back."
Article continues below advertisement
Maybe Demi was inspired by Ashton's recent nude stunt for Ellen DeGeneres — which will air today on the new season of Ellen.
Do you think Demi needs to put an end to the half-naked Tweets? Or should she proudly display her toned body at her age?