NEWS
See How Much Cleavage Miley Cyrus Reveals on the Cover of Cosmopolitan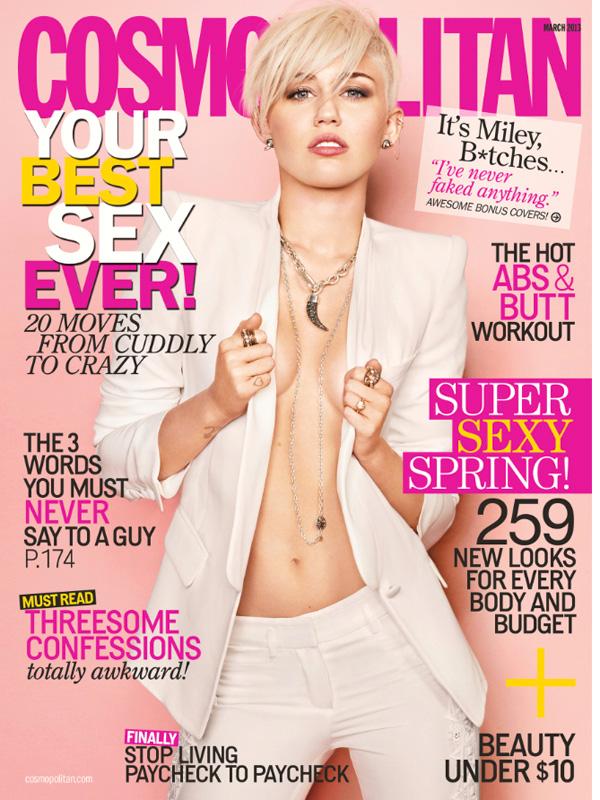 Sporting a white jacket with nothing underneath but gold chains and matching pants, Miley Cyrus shows off her assets on the March cover of Cosmopolitan.
The country superstar opens up about her relationship with fiancé Liam Hemsworth and talks wedding plans!
OK! GALLERY: MILEY CYRUS CHOPS HER HAIR OFF AGAIN! CHECK OUT HER NEW 'DO
Miley on the part of her life she is most satisfied with:
"Number one is my relationship with Liam. That's what I feel the most confident in because you never know; there's so much hype behind my new record, but it could come out and, worst-case scenario, everyone f***ing hates it."
Article continues below advertisement
On celebrating her competition:
"Katy Perry's been my friend for f***ing five years, and I'm not ever gonna let our work get between that relationship. If Katy sticks with being Katy, and Ke$ha is Ke$ha, and Rihanna is Rihanna, and I'm me, there's room for everybody."
OK! GALLERY: MILEY CYRUS' NEW PIXIE CUT! BEFORE AND AFTER!
On whether she has moments where she's still struck by how hot he is:
"Yeah, all the time! I'll literally look at him and be like 'You are hot, dear god!' The other day, I turned on the pool heater and it was steaming, and he walked outside and took off his clothes and jumped in the pool. I was like, 'I'm gonna faint – the hottest guy of my life is in a steaming pool. This looks like a Playgirl shoot.' So I took a photo and made it the background on my phone and was like, 'Who's that? He is so hot!' That's my hubby."
OK! GALLERY: MILEY CYRUS WALKS DOG ZIGGY IN PHILADELPHIA WITH FIANCÉ LIAM HEMSWORTH
On what she wants her wedding to be like:
"I feel the bigger the wedding, the more it becomes a target for people to ruin. So we just want it to be small, with the people who we'd take bullets for. I don't want to be looking at those photos and see people that I wish hadn't been there. C'mon, I can't even get coffee without a million paparazzi following me, so I don't know why anyone thinks I'm going to have this huge, extravagant wedding. That is so not who I am."