NEWS
See Jenelle Evans' Mug Shot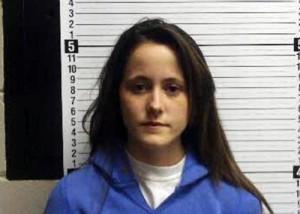 Jenelle Evans was arrested last night after her vicious attack against a young woman was caught on tape, launching a D.A. investigation. The 19-year-old Teen Mom's mug shot has been released. Her boyfriend, Kieffer Delp, and video victim of Jenelle's heavy blows, Britany Truett, were also arrested.
Jenelle was arrested by North Carolina's Brunswick County Sheriff's Department and charged with simple affray and simple assault on Sunday night after a video of her attacking Britany was posted on TMZ last week.
Article continues below advertisement
Jenelle was released shortly after her arrest and is due back in court on April 26.
Kieffer, 20, was arrested on a pending cocaine charge and Britany was booked for simple affray.
Jenelle's attorney told TMZ, "Based on the information that I have received, I believe Jenelle was set up."
TMZ has also posted photos of Britany's injury from Jenelle's brutal attack.
Watch the fight below. Do you think Jenelle was set up?