NEWS
See Kate Hudson Strip Down in the Sheets for 'Elle'!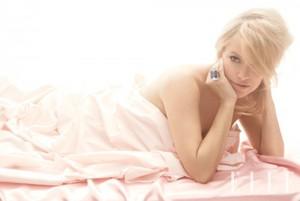 Kate Hudson wears nothing but an over-sized ring and a sheet in a new photo spread with Elle magazine — a shoot done prior to the actress giving birth to son Bingham Hawn Bellamy with Muse rocker fiancé Matthew Bellamy earlier this summer.
"It's definitely getting harder," Kate tells Elle in an interview to promote her Chrome Hearts jewelry collection which she collaborated with pal Laurie Lynn Stark . "You have to think about things like, 'Where is the movie shoot? How long is it going to keep me away from my family?' But, you know, life moves on. I would never want to be someone who complains and goes, 'Oh my God, my life is so crazy.' If you make the best of it, it can be amazing."
Article continues below advertisement
But Kate has the perfect role model — mom Goldie Hawn has given her some great advice.
"She never hands out unsolicited preachy words of wisdom, though," Kate says of her 65-year-old Oscar winning mom. "My parents allowed my brother and I to have our freedom and be ourselves and feel confident in our choices and to make mistakes without too much judgment. I hope that I can do as good a job."
Kate also has a pillow talk session with Elle's Creative Director Joe Zee about her jewelry line and her older son with rocker Chris Robinson, Ryder.
And her adorable shaggy-haired little boy has aspirations to be a rapper!
Is he any good? Watch the clip from Elle below to find out.