NEWS
See Kristen Stewart as Vampire Bella Swan With Renesmee in Fake 'Breaking Dawn' Movie Poster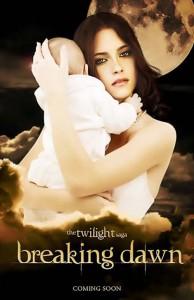 This rendering of Kristen Stewart as Bella Swan a la vampire is pretty bizarre. Touted on Twilight fan sites as the new Breaking Dawn movie poster, the photo features K-Stew as Bella coddling her newborn vampire hybrid baby with Edward Cullen (Robert Pattinson), Renesmee — all against a moonlit backdrop.
The poster, via Deadline Hollywood, was not released by Summit Entertainment, meaning it's fake and most probably a fan-made Photoshop job trying to get Twi-hards riled up.
Article continues below advertisement
We find it too cheestastic to be real.
The Twifecta — Kristen, Rob and Taylor Lautner — were just at Comic-Con in San Diego to speak on a panel about the latest edition of the Twilight franchise.
In the book, the birth scene is definitely graphic, so how will it translate in the Bill Condon-directed film adaptation?
Just as graphic, if not more according to Rob.
"The birth scene is so different from everything else in the movie," he told the audience last week at Comic-Con. "For a fantasy series it goes quite far. It's hardcore, it's graphic. There's no other way to do it. It was fun."
So how did he handle the chaos of filming?
"It was nice to play," Rob shared. "He's trying to help, but he doesn't know what to do. He was totally annihilated by the whole thing."
Article continues below advertisement
And Kristen echoed similar sentiments about the graphic nature of the birth, but had a blast being the one to do the "labor."
"I thought it was so cool," she told the audience at Comic-Con. "I think we did try to go as hardcore as we could. It's not your typical birthing scene. It took two days to shoot."
What scene are you most looking forward to? Sound off in the comments!