NEWS
See Mila Kunis Pose Provocatively in Her Panties For 'GQ'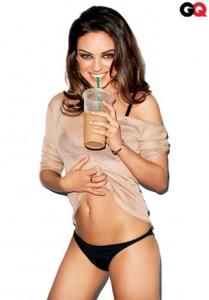 Mila Kunis is hitting the big screen this month in the new comedy Friends With Benefits, where she strips down and gets cozy with co-star Justin Timberlake. And to make men swoon even more, the young, hot Hollywood actress strips down for GQ mag, showing of her toned bod in some sexy undies.
Mila shares with GQ what she thinks it actually means to be "friends with benefits."
Article continues below advertisement
"It's like communism — good in theory, in execution it fails. Friends of mine have done it, and it never ends well. Why do people put themselves through that torture?" she says."But friends with benefits isn't a purely sexual relationship — it's two people who like each other having sex, not a random hookup. And when two people who like each other have sex, eventually someone catches feelings and everything is expletive. You might be able to treat our relationship as killing time. I might not. I may be in love with you."
So does Mila have her own "friends with benefits" deal going?
Not exactly — while she is single, she isn't looking for anyone either.
"I wouldn't dare wish myself upon anybody at this point in my life," she said."My shooting schedule is crazy. I'm a nomad till January."
Mila also opens up about how its difficult for female comedians to be taken seriously in the biz.
Article continues below advertisement
"The bottom line is if you're an attractive female in this industry, people just take you as that: attractive. People aren't getting the opportunity to move beyond being attractive," she shares, adding, "It's not only with comedy. It could be with drama or action or whatever. People are distracted by looks. It happens. I'm not saying it happened to me, but it happens."
For more with Mila, visit GQ.com and pick up the latest issue of, hitting newsstands Tuesday, July 19. Also catch Friends with Benefits at the box office July 22!