NEWS
See the New Video from New Kids on the Block—It's Their Best One EVER!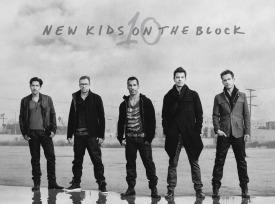 Warning: do NOT watch this video if you are at your desk at work, in the library or any other quiet and contained space because it WILL make you want to have an immediate dance party!
The New Kids on the Block released their new video for their latest single "Remix (I Like The)" today and it is amazing. It stars Artemis Pebdani from It's Always Sunny in Philadelphia, who dances all through the party at the house, including in the pool and with Donnie Wahlberg. Hot! And the guys look their handsome, fun and talented selves of course!
Article continues below advertisement
So as soon as I stopped dancing I realized I need answers to these questions:
* Which of the guys is the Always Sunny fan?
* Can Donnie wear those glasses all the time?
* Who's idea was it to slip in the blink-or-you'll-miss-it old school moves? Love it.
* If I have a party will NKOTB come perform at it? Please?
* Will Artemis teach me those moves?
* Is it summer yet? I am ready for The Package Tour, big time!