NEWS
Selena Gomez Channels Nicki Minaj (Again) in MTV EMA Promo!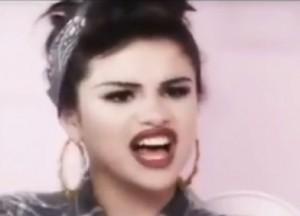 Selena Gomez is a huge fan of Nicki Minaj! The singer channeled the rapping songstress in a new promo for the European MTV Video Music Awards, which she will be hosting this year!
In the promo, Selena shows off her serious rapping skills with a original ditty that sounds similar Nicki's mega hit "Super Bass." (SelGo took on Nicki in THIS viral clip she posted on YouTube.)
She is dressed as her sweet self on one side of a mirror, and her rapping alter ego brings some heat on the other side — busting lyrics like "Who else better than me to be hosting the show/people know who the F I is, I'm a pro."
Article continues below advertisement
"Just got off a call for MTV's EMA so excited are you ready Belfast!!!!" Selena Tweeted earlier this week.
Right now, the 19-year-old singer/actress is in Canada — her boyfriend Justin Bieber's home turf — for her "We Own the Night" tour.
"Just landed in Canada, it is so beautiful here.... So excited to start the "We own the Night" Canada Tour!!!! See you guys in Victoria." She posted on her Facebook page, along with a picture of the Canadian landscape.
Selena joined JB for his shows in Brazil, as he is also busy on his My World Tour. The teen dream couple performed a duet of her hit "Who Says" together for a group of lucky Brazilian fans!
Justin is now in Argentina, making girls scream.
Watch Selena's EMA promo on YouTube.