NEWS
Selena Gomez Says Boyfriend Justin Bieber is a "Hopeless Romantic"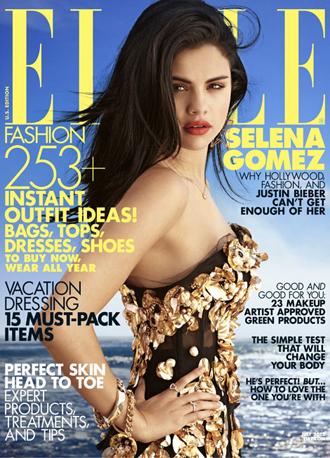 Selena Gomez has officially been crowned 2012's "It" girl! The beautiful actress and singer is now covering the July issue of Elle where she opens up about her BF Justin Bieber, being a Disney girl and growing up without a lot of money.
Although Selena is not keen on sharing too many intimate details about her relationship with Justin, she did say he is "romantic" especially when it came to that notorious date where he rented out the Staples Center in Los Angeles, Calif.
Article continues below advertisement
"If I'll share anything with you, it's that he really is a hopeless romantic," Selena says of her boyfriend.
"I had just mentioned it in the car — all I said is that I really want to see Titanic again, and then."
OK! NEWS: SELENA GOMEZ OPENS UP ABOUT CONFIDENCE ISSUES, JAMES FRANCO & BEING A ROLE MODEL
One thing she would share is how she is trying to grow up in terms of her work.
"I get offered the teenybopper movies, and I've done that. I haven't done a mega-hundred-billion-dollar Transformers movie, but that's not what I want to do either," Selena explains.
Although the future seems bright for Ms. Gomez, things weren't always so great for her growing up.
"I can remember about seven times when our car got stuck on the highway because we'd run out of gas money," she reveals.
Her mom, Mandy, always supported her however and "saved up to take me to concerts. She took me to museums, aquariums, to teach me about the world, about what's real."