NEWS
Selena Gomez on How She Met Justin Bieber: "His Manager Called My Mom"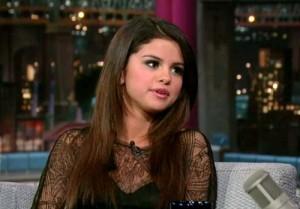 David Letterman wasn't going to let Selena Gomez stop by Late Night without asking about her budding relationship with teen heartthrob Justin Bieber. The young star was in NYC to promote her latest single, "Who Says," but Dave popped some Bieber questions in there and Selena answered candidly, sharing some details about her boyfriend!
"Oh, that's cute," Selena responded, via MTV News, when Dave revealed a picture of her and Justin at Vanity Fair Oscar party last month. "It was like a little prom night, wasn't it? Looked like it."
Article continues below advertisement
OK! NEWS: SELENA GOMEZ CONFIRMS SHE IS DATING JUSTIN BIEBER
Selena and Justin have been friends for about two years and finally went public with their relationship last month.
How did they meet?
"Actually, his manager called my mom, who's my manager," she explained, followed by Dave's quip, "I heard he was your paperboy."
"I'm blushing!" she said.
"Are you dating or not dating?" Dave continued to press.
But Selena remained coy and danced around her answer.
"He's been in my life for so long, and it's just nice to have someone that understands what you're going through," she shared.
"This is not my first rodeo, you can talk to me about these things," Dave joke and Selena laughed it off.
The young stars are trying to remain private about their relationship but have been spotted on dates together and Selena was at Justin's side when he celebrated his 17th birthday.
Article continues below advertisement
JB is currently on his world tour, and made sure to Tweet a special "I Miss You" message at Selena.
Also, she basically confirmed her relationship with the 17-year-old pop icon, speaking out against those who hate on their relationship.
"I don't feel like I'm doing anything wrong," she said recently. "I've been best friends with him for a very long time. It does hurt my feelings a lot but I try not to focus on it. I have a strong family and great fans."
Catch Selena's interview on Late Night below!