NEWS
Selena Gomez Says 'Fifty Shades of Grey' Role is Too "Spicy" For Her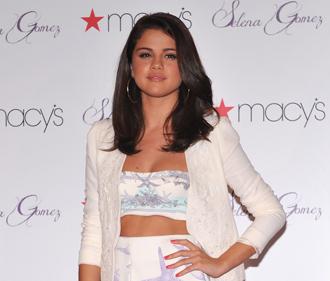 She may be an innocent young girl fit to play the title character, Anastasia Steele, in the movie adaptation of E.L. James' best-selling erotic novel Fifty Shades of Grey, but Selena Gomez thinks she may be a little too innocent to star in such a sex-driven film.
Selena admits she has read some of the first book in the trilogy and it's definitely made her cheeks a bit rosy!
OK! GALLERY: SELENA GOMEZ GOES FROM GRUNGY TO GLAM FOR PERFUME LAUNCH
Article continues below advertisement
"I only read the beginning of it, because when they told me about the skit, I didn't know what it was about," Selena told MTV News, referring to the short video she did for Funny or Die. "So I started to read it, and I was like, 'Oh, this is spicy.' So I thought it was good, it was intriguing. Obviously, it's working, so the skit was really funny."
Although her name has been thrown in the mix of who should play Christian Grey's leading lady, Selena, who turns 20 in July, feels she's way out of her league with this one.