NEWS
Selena Gomez's Shocking Reaction to Justin Bieber Suit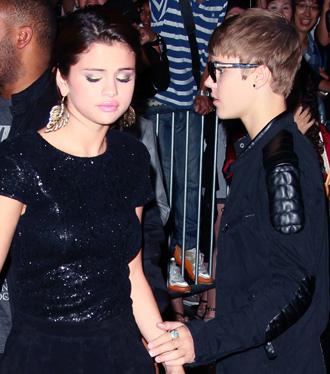 Article continues below advertisement
Worried about the impact the scandal would have on her career, Selena tried to end the relationship, and insider tells OK!, but was convinced to stand by her man — for now.
OK! has all the details in this week's issue!
Justin, 17, didn't immediately tell his girlfriend of 11 months that he was being sued for paternity because," He was hoping it would go away," says the insider, "but of course it didn't."
OK! NEWS: MARIAH YEATER BELIEVES JUSTIN BIEBER'S PATERNITY TEST WILL BE POSITIVE: "NO QUESTIONS ABOUT IT"
The teen idol's camp has strongly denied 20-year-old Mariah Yeater's claims she had a sexual encounter with Justin in a backstage bathroom of the Staples Center in October, just prior to Justin and Selena going public.
Justin denies her story as well. "So it's crazy that some people want to make up some false allegations, but to set the record straight, none of it is true," he said on Nov. 3 on Today. "Never met the woman." He's reportedly agreed to take a paternity test when he returns from his overseas engagements in two weeks and vows to sue Mariah.
FOR MORE ON JUSTIN'S ALLEGED LOVE CHILD, PICK UP THIS WEEK'S ISSUE OF OK! — ON SALE EVERYWHERE NOW!