NEWS
Senator Clinton Doles Out Parenting Advice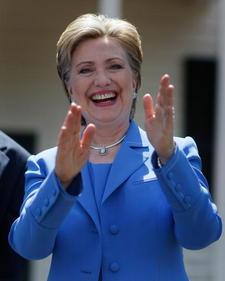 Raising children in Hollywood is tough, but not as tough as raising them in the White House.
Democratic presidential hopeful Senator Hillary Clinton spent the better part of her husband's eight years in office rearing their daughter Chelsea, now 28, during those all-important adolescent years, and things were definitely different.
"The secret service went on her dates," Senator Clinton tells MomLogic.com during a Town Hall conference in North Carolina. "A lot of her girlfriends' mothers loved it when they double dated because you know there was the guy with the gun in the front seat."
Article continues below advertisement
Getting serious, the 60-year-old bestows some advice to moms in the audience on dealing with teen dating -- but not before prefacing that her experience is one in a million, noting that it was "really intimidating" for Chelsea's dates to meet her or Bill.
"The whole dating experience is fraught with so much anxiety for everybody, certainly for the young men she's dated," she says. "It's important to try to get to know both the girl or boyfriends that your kids have, being part of their lives...just to give you some insight into what's going on and how you can understand their lives."
Being a present force in your kids' lives nowadays is even more crucial since, with the advent of technological inventions, what is the norm now certainly wasn't the norm back in the day.
"A lot of what kids think of as normal behavior was not even invented let alone even accepted today didn't even exist when I was growing up," she says. "You listen to their conversations and there's a lot of mental debate going on in your own head -- 'They're doing what? They think it's okay to do this or say this?' But you have to know it in order to know how to navigate through it."
Article continues below advertisement
Senator Clinton also recommends carving out time for family meals together, whether it be breakfast, lunch or dinner. Even during her husband's eight years in office, she says the clan found time to have nearly all their dinners together.
"We always did. Sometimes I might not be there. More often, Bill might not be there. Most times we were all there," she says. Now there is evidence and if you can find that time together -- boy is it hard today -- all of that really helps to create the habits that undergirds a successful life."
Those dinners didn't always go off without a hitch though.
"The first time we ordered pizza, shortly after we were there, it caused a national security emergency," the Senator reveals. "The poor pizza delivery guy was quite dumbfounded."