NEWS
Serena Williams is a Closet Screenwriter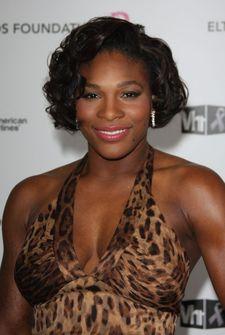 Serena Williams may be the number one tennis player in the world, coming off of last night's win over her elder sister Venus, 28, in the single elimination Billie Jean King Cup at NYC's Madison Square Garden, but she's got other things on her mind besides her backswing.
"My dream of dreams is to write a screenplay," Serena, 27, told OK! at the Sony Ericsson WTA Tour U.S. kick-off luncheon March 3 in NYC. "I love writing. Venus bought me this book about writing screenplays so I look forward to doing that."
Article continues below advertisement
Serena, who dated X-Men director Brett Rattner from 2004-2005, won't have any trouble getting connections in Hollywood--not that she needs the help. On Thursday, she'll be a guest on Late Night With Jimmy Fallon in the historic first week of the show.
"I'm so excited. I love him!" the reigning U.S. and Australian Open champion says of Jimmy. "I've been a fan forever--I even saw the movie Taxi. He has a good personality. Comedians are always great hosts. It was really a no-brainer."
Also on the show alongside Serena will be Donald Trump and her pal Ludacris, who's teaming up with Serena to launch a nationwide songwriting competition through the rapper's WeMix.com site in search of an original song about Serena that will be used at tennis matches and other appearances.
Music's become a hobby for Serena and her sister Venus Williams. "Venus is really into music and she's really into writing," Serena says. "I play the guitar actually. Venus plays the guitar too, so we have a lot of fun with it."
Article continues below advertisement
The sisters might become the next Beyonce and Solange Knowles if they have anything to say about it. "I really love music production," Venus said during a Q&A at the Sony Ericsson luncheon. "I wish I would have gone to school for that. Everybody goes to school and afterwards they know what they really want to do."
If they do pursue music, it will be just another notch on their creative belts. The sister's resume includes not only tennis, but fashion, acting, modeling and charity work.
"I see myself always being in the arts and being creative and definitely being involved in charity," said Venus when asked about her plans post-tennis. "And taking a long vacation once this is over. And staying off airplanes."
"We're going to retire at the same time, right?" Venus asks her sister at the end of the luncheon. " "Yes," Serena replies happily.
By Laura Lane