NEWS
On Set with Jillian Michaels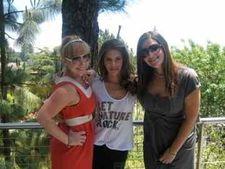 Did you know that clothes with bright colors scare Jillian Michaels more than a treadmill scares the contestants she trains on The Biggest Loser? But, like The Biggest Loser contestants who become more comfortable with the treadmill the more time they have to spend with it, Jillian became more comfortable in colorful summery dresses when she was given time to, 'wrap my head around them." That time turned out to be exactly 7 minutes – between looking at a rack of clothes horrified by the fluorescents and frills – and asking if she could purchase the bright yellow, black and white Oscar de al Renta summer dress she'd put on.
Article continues below advertisement
I learned all of this and more when I spent the day with Jillian doing a fashion shoot at a gorgeous home in Bel Air last week. Another thing –I may be blowing her cover by saying so – but I found her to be really sweet. More than that, she's the kind of girl that you want to hang out with because she's fun, and real. With Jillian, what you see is what you get, she's no BS, whether in the gym or modeling gorgeous gowns.
Check out the latest edition of OK! for Jillian's diet and tips to lose a dress size in a few days (even if like Cinderella the results for the quick fix are temporary and can expire at midnight). Read on for the rest of the interview ;) xo
Who are your favorite designers?
I love Rick Owen for everything and…
Suits: (her mainstay) Gucci and Dolce & Gabbana suits.
Dresses: Prada
Shoes: YSL and Dior
Jeans: J Brand skinny jeans.
Article continues below advertisement
Jackets: Fendi and Rick Owen
Bags: Ferragamo, Fendi and YSL
Who's style in Hollywood do you like?
I like Jennifer Aniston because she is clean and classic. She always dresses very sexy, beautiful, clean, and age appropriate. I always think Beyonce looks gorgeous, she has sexy, glamorous style. I couldn't pull it off. She has a great ass and is so curvy and sexy. I also like Jessica Biel because she is classic and beautiful and natural.
How often do you workout?
When we're not shooting I try to do five hours a week and when we are I'm lucky to get in three hours a week. My body goes from a size 2 to a 4 and I gain 5 pounds. You'll see it from the beginning of the season to the end when I get tired. We're working 4-hour days and when that happens, you need to be very mindful if your food.
How do you change your diet during times you know you won't be able to work out as much?
Article continues below advertisement
I allow myself less when I work a lot and don't have time to work out as much. There's no drinking whatsoever. I don't get to have my organic peanut butter cups or eat as much period. I usually go from a500 calorie breakfasts to 300 and being able to have sweets at night is gone, as is a glass of wine and tequila shots, they go.
What is your workout routine like?
I work my ass off. I do Capoeria, it's a Brazilian form of martial arts. I have a trainer that I'm crazy about and we do crazy shit like sledge hammers, kettle bells, holistics amd biometric pull-ups. I do mixed martial arts, I run, I'm very cutting edge and intense.
Does he yell at you like you yell at the contestants you train?
He doesn't yell at me, but I work very hard. I'll put my feet on the wall and hands on treadmill and do wheel barrels. He'll wrap my legs around his neck and he'll make me do sit-ups. He's bananas but the best trainer I've worked with.
Were you always skinny?
No! I was a fat kid and then I got into martial arts and it turned my whole life around. I was 175 pounds at 5'1" and when I got into martial arts at 13. My instructor dropped the hammer on me at 14 and that's when I got my act together, its been an on-going process and I'm constantly learning about fitness, diet, health, sports medicine, biochemistry.
Article continues below advertisement
So you work hard for your body?
I work my ass off, it is no joke. You watch me go up and down. I'm not a fitness guru because I'm not that girl who feels the burn and loves to exercise. I hate it, but it's about rebuilding my life and fitness is my tool. If I were to take a contractor and ask if he loves his hammer, he would say no but he's proud of the house that he just built. That's what fitness is. It's a means to and end. I can get to the core of someone's self destructive behavior in the gym and can reverse 90 percent of overweight diseases like stroke, hypertension and sleep apnea in that gym.
What's advice do you most often give The Biggest Loser contestants for the problems beyond diet and exercise?
There are two pieces of the equation- you can change anything if its worth it and form a motivational and emotional connection. First you need to get in the car with a destination. Then you have to believe that you can achieve it and feel strong, potent, and able to take risks, endure failure, and develop resilience. If that glass has always been half empty, it will dictate all of your choices, but I can show you that it's half full and I will shatter your story and write a new story. That's what fitness is for.
Article continues below advertisement
If you're going to drink, what should you drink?
A margarita is 500 calories, so you can do the diet version that has 80 calories instead with Patron on the rocks, fresh lime, and if you need it, a tiny splash of orange juice. You can also make a lower sugar mojito by replacing the sugar with Truvia,to sweeten it up and get rid of the calories.
What are you five essentials?
My Ducati motorcycle.
My horse, Buzz, he's a rescue.
My mom. I worship her.
Dr Lancer skincare. I can't live without my Dr. Lancer skin care products.
Paul Newman's Own Organic Dark Chocolate Peanut Butter Cups. They have 180 calories for three little ones in a pack.
And, I cant live without my IPOD, actually my iphone, I can't function or get through life without, it's like my traveling office.