NEWS
Seth Meyers Pokes Fun at Kim Kardashian & Kris Humphries at 2011 ESPY Awards!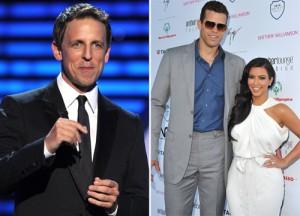 Seth Meyers did a good job roasting athletes last night during his 2011 ESPY Awards opening monologue — tackling LeBron James, Dwayne Wade and Brett Favre, as to be expected. But he also took a stab at reality star Kim Kardashian and her fiancé, New Jersey Nets star Kris Humphries.
The Saturday Night Live star's opening monologue was centered on athletes, complete with jokes about crotch shot pro Brett Favre.
Article continues below advertisement
But Hollywood did not escape unscathed from Seth's jokes, as he took some jabs at Kim and Victoria Beckham.
"Kim Kardashian is getting married to a New Jersey Net. Asked why she picked a New Jersey Net, Kim said she was tired of dating pro-athletes," he zinged, followed by an "Oooh" reaction from the audience.
"You don't have to oooh," he continued, "No Nets are here. We haven't had a Net here for 15 years."
Watch his complete monologue, HERE!