NEWS
Seth Rogen and Barbra Streisand "Sussed" Each Other Out Before Signing on to Star in 'The Guilt Trip'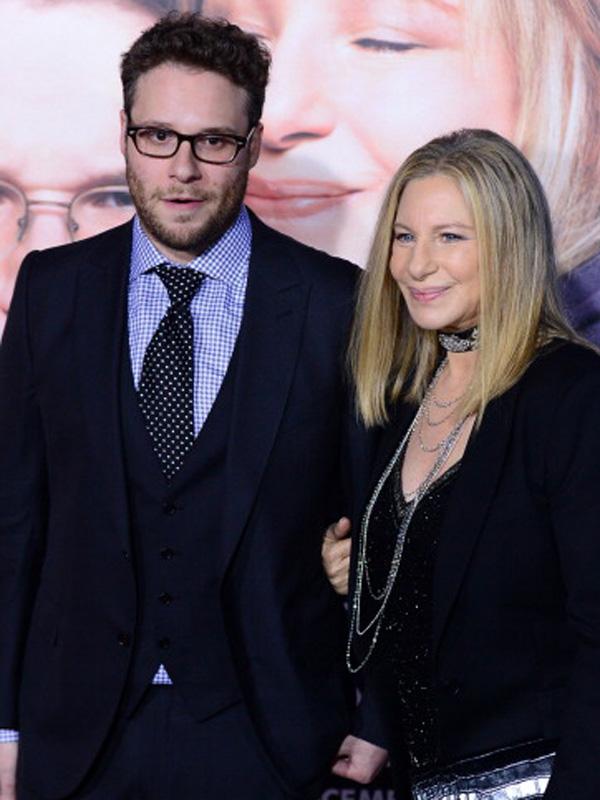 They seem like such unlikely costars, but Seth Rogen and Barbra Streisand, are hilarious in Paramount Picture's new comedy The Guilt Trip where Babs plays Seth's mom and the two go on a road trip from hell together.
"Seth, it turns out, sussed me out," Barbra told us at the press conference for the film in Los Angeles.
"I did", Seth admitted.  "I was actually working with John Schwartzman who was the cinematographer on Meet the Fockers around the time this came up, and I think I asked him what he thought of Barbra and he said she was great.  I know Jay Roach a little, so I think I might have asked him, and I think he said she was awesome, too.  
Article continues below advertisement
OK! GALLERY: ANNA KENDRICK & SETH ROGEN HIT THE RED CARPET FOR THE 50/50 PREMIERE IN LONDON
Barbra chimed in and said," Ben Stiller you called."
"Yeah, Ben Stiller I think I might have run into and asked.  She checked out with everyone.  This Barbra Streisand lady checked out, so I thought I'd give her a shot." (Laughs)
"I didn't know who to call.  I don't know any of those people from his movies, so what was I going to do?  No, I thought he was adorable, so I thought this is interesting, unlikely, which makes it interesting, and yet we're both Jewish."
It's not often we get to see Barbra on the big screen. The music icon said even though she doesn't get a lot of scripts, she was apprehensive to take the project on at first and admitted how challenging she made it on the filmmakers.
OK! GALLERY: RIHANNA, EMMA WATSON AND JASON SEGEL FILM THE END OF THE WORLD IN NEW ORLEANS
"I made it very difficult for them to hire me, because I kept wanting an out in some way.  So I made it really hard.  I would never do this normally, but "I really don't want to schlep to Paramount.  It's two hours each way.  So, would you rent a warehouse and build the sets in the Valley no more than 45 minutes from my house?"  And they said, "Yes."  Then, on these Focker movies, I had to get up early and I'm not an early bird...So I said, "You can't pick me up until 8:30am."  That's a normal time to get up for me, because I love the night." My husband and I stay up until 2 or 3 in the morning, so we don't function well at 6 in the morning.  And they said, "Okay."  
And I'm so glad they were "okay" with Babs demands because The Guilt Trip is touching journey about a mother and son relationship that is a a must see! The movie opens December 19. Check it out and tell us what you think.