NEWS
Seth Rogen, Bill Hader Have Apatow For Destruction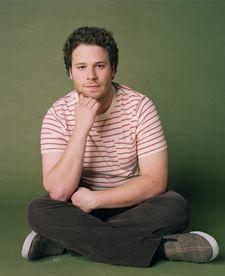 During the Just For Laughs Festival, 40-Year-Old Virgin, Knocked Up, Superbad and Pineapple Express mastermind Judd Apatow hosts Apatow For Destruction featuring the comedic talents of Seth Rogen and Saturday Night Live's Bill Hader.
"My friend said Montreal is better than any city in America," Judd says during the bash at Metropolis. "He turned out to be right." P.S. Did you know Judd lived with Adam Sandler when he was 19?
Article continues below advertisement
Seth has me in stitches as he talks about his love for George Clooney over Angelina Jolie.
"George Clooney is the person I've agreed with my girlfriend I'm allowed to f*** if I meet them," the Pineapple Express star says. "I know most guys would choose Angelina Jolie, but I figured with Angelina Jolie, she would get it. It wouldn't totally surprise her. But I f*** George Clooney, she'd probably dump me like 'what the f***? You f***** George Clooney?' I'd be like 'I warned you, I told you I might f*** him one day.'"
He laments his stature in the gay world.
"In the gay world, I'm known as a bear. I'm known as a chubby guy in the straight world, but in the gay world, I'm a bear.
Seth can't get enough of the nightlife in Montreal.
"Perhaps the greatest thing Montreal has to offer is contact strip clubs," he says. "But it's not as rad as it sounds. It sounds like the greatest place on Earth but it's a lot more depressing than that. They bring you to a room that looks like it's a casino movie where they beat up people who have been caught cheating. It's a wet little room, and there's not even music playing but they give you a song length."
Pick up the OK! on newsstands now for more coverage of the Just For Laughs Festival.