NEWS
Seth Rogen Loses Weight, Keeps Girl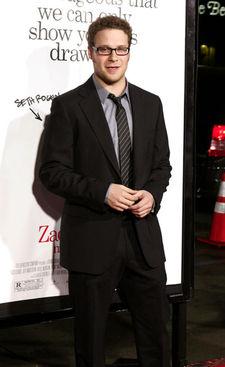 Seth Rogen is a new man now that he's thinned out, and longtime girlfriend—writer Lauren Miller likes it—even though there's less of the funnyman to love.
"She's happy," the Observe and Report star, 26, tells me. "I make her laugh. We really love each other. That's all you need."
The pair met four years ago.
"A friend of mine was dating a friend of hers, and we met at a party one night and hit it off."
Article continues below advertisement
She's not the only one impressed by his diminishing frame.
"I saw him at South By Southwest, and he looks great," Superbad director Greg Mottola tells me. "It's amazing. He looks really handsome. Seth used to be into martial arts, so when he was a teenager, he was actually in really good shape, and then I think all the smoking pot and lying around might have slowed him down a little bit. But Seth's such a great guy. I don't know how he lost the weight, but I'd like to find out."
Perhaps Wii Fit had a role in his slimdown?
"Someone gave it to me, actually, but I haven't tried it yet," Seth told me last summer. "I have it at home in a box. I look forward to trying it."
Observe and Report is in theaters Friday.