NEWS
Settlement Reached on Heath Ledger's Life Insurance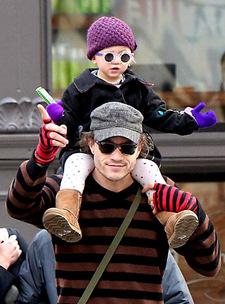 Heath Ledger's insurance company and lawyers for his daughter, Matilda Rose, have reached a settlement over a $10 million policy on behalf of the 3-year-old.
Ledger, 28, died a year ago in his NYC apartment in what officials ruled an accidental overdose on prescription medication.
However, lawyers for Ledger's life insurance company initially didn't want to pay out on the policy because they believed his death could have been a suicide, which would nullify the policy.
Article continues below advertisement
Attorney William Shernoff filed a lawsuit in July 2008 on behalf of Ledger's 3-year-old daughter, Matilda Rose, over the $10 million he argued was due to her as the beneficiary.
"The parties are pleased that they were able to reach an amicable settlement and solve the dispute," Shernoff said.
No details were released on terms of the agreement. Ledger, who had his daughter with Michelle Williams, is Oscar-nominated for his role as The Joker in The Dark Knight.