NEWS
Seven Secrets from the Set of 'Glee'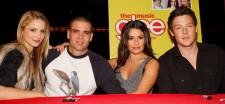 OK! got the inside scoop on the behind-the-scenes scoop from the hit FOX series Glee. From practical jokes to pop star fans, OK! has the top seven Glee secrets. Find out who's the prankster, who's crushing on the prez, and how they really see Sue!
1. They Have Their Own Club
The cast uses a big, open space as a club between sets. "We set up chairs and fake palm trees, and have a sign that says 'Club Cast,' " Cory Monteith, plays quarterback Finn, explained to OK!. "We sit around and sign songs — that's how some of the songs featured on the show have been written in."
Article continues below advertisement
2. Dianna and Lea Were Roomies
They may play high-school rivals Quinn and Rachel on the show, but Dianna Agron and Lea Michele are far from that in real life. They "shared an apartment for the longest time," Corey revealed. "Three other cast members live in the same building, so we all hang out quite a bit."
3. The Guys Love Pranks
"We put dummies used as extras in people's trailers to scare the crap out of them," Mark Salling, who plays jock Puck, told OK!. Cory added, "One time I put a banana in executive producer Dante Di Loreto's tailpipe. He drove off and it exploded his muffler."
4. Madonna Is a Fan
A Glee source told OK! that "Madonna requested DVDs of the series for her kids." Madonna also gave the show permission to use her songs in an entire Madonna-themed episode. "The cast is really excited," the source said. "They hope she'll be on the show."

5. Lea Has a Crush on Obama
"We just went to the Human Rights Campaign event and he spoke and I just fell in love with him," Lea explained to OK!. "If you see him and hear him speak, you fall in love with him!"
Article continues below advertisement
6. Coach Sylvester is Like a Mom
She may play mean cheerleading coach Sue Sylvester on the show, but Jane Lynch is actually really nice when the cameras aren't rolling. A source told OK! that when the cast went to see Jane in the off-Broadway play, Love, Loss and What I Wore, she greeting them by asking, "Where are my babies?"
7. They love The Breakfast Club
"Everyone will pile into one person's trailer and watch a movie," Cory said about him and his cast mates. "We've watched The Breakfast Club for reference — we're kind of the modern version of it."
FOR MORE ON THE CAST OF GLEE, PICK UP THE NEW ISSUE OF OK! — ON SALE EVERYWHERE NOW!