NEWS
Sex and the City Shoots too "Crazy" for SJP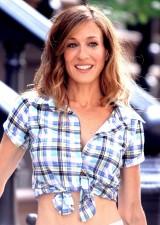 Loyal devotees of Carrie, Samantha, Miranda and Charlotte make filming of Sex and the City sequel on the streets of Manhattan less than fan-tastic admits the movie's star Sarah Jessica Parker.
The actress, 44, says that shooting Did You Hear About the Morgans? with Hugh Grant in New Mexico, which is largely free of paparazzi, was an entirely different experience to filming scenes on the seething sidewalks of Manhattan, reports the New York Daily News.
Article continues below advertisement
"It drives me crazy," says Sarah Jessica (mom to James Wilkie, 6, and three-month-old twins born via surrogate, Marion and Tabitha). "It's just very hard to get a day's work done and concentrate."
Meanwhile, starring with Carrie Bradshaw herself has made an SATC convert out of Hugh. "In New Mexico," confesses the 49-year-old, "I would watch Sex and the City every night and call SJP and say, 'I love this episode!'"