NEWS
Sex and the City Star Willie Garson Adopts Son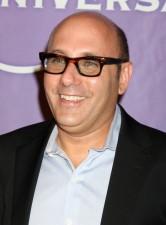 Usually, when you hear about an unmarried celebrity adopting a child, it's a strong-willed female superstar like Mary-Louise Parker or Meg Ryan, but the story of how Sex and the City's Willie Garson came to be the single dad of an 8-year-old son is slightly different.
In an interview with TVGuideMagazine.com, the actor, 45, reveals that he has just finalized the adoption of his new son, whose name is Nathan.
Article continues below advertisement
"He moved in with me in February," Willie explains. "He's going into third grade, plays baseball, goes to karate and has a posse of pals."
Willie first found Nathan at an adoption fair. "They're held in secret locations. It's like a pet fair — as horrifying as you can imagine. It was really hard. The 16-year-old fat ugly kid, who has probably been to thirty of these, knows he's not going to get adopted. Like everything else, cute wins. I couldn't believe my kid was actually available for adoption. He's so cute and sweet. "
Without revealing the identity of Nathan's biological mom, Willie reveals that, "for many reasons, she couldn't care for him, but I will never let her not see him."
The father-son duo are now prepping to head to Manhattan, where Willie will once again reprise his role as Sarah Jessica Parker's good friend Stanford Blatch. "I think he's going to be freaked out when we go to New York," he admits, adding that the SATC cast is treated "like the Yankees... We can't walk 20 feet without being mobbed."