NEWS
Sgt. Scott Moore Says Mila Kunis Marine Ball Invite Was "Kind of a Bet"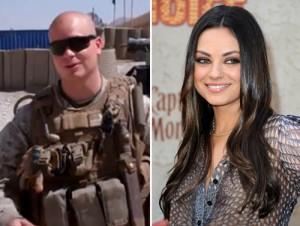 Mila Kunis may be a little surprised to know that U.S. Marine Sgt. Scott Moore was pushed to invite her to the Marine Corps Ball on a bet from his buddies! The military man, who recently made a suave YouTube video inviting Mila to the annual event, is dishing about how it all started and the anticipation of meeting one of Hollywood's hottest young actresses!
"It was kind of a bet between me and Marines in my platoon," Sgt. Moore said in an official interview with the Military Times. "I told everyone I was going to do it, but they didn't think I would go through with it. One day we had a couple minutes, and I took another Marine out with me and we shot two takes. The first one was without sunglasses but I was squinting too much because it was so bright, so we shot the one I uploaded to YouTube. The rest of the Marines liked it, so I posted it that day."
Article continues below advertisement
As far as becoming a viral video sensation, that wasn't Scott's main goal — he just wanted to reach out to the Friends With Benefits star.
"I always thought I had a chance, and sometimes that's all you need," he explains. "The Marines I work with did their best to spread it around. We all talk about what we are going to do when we get back, and this was my dream. I do feel bad for putting her on the spot, but it's not like I was going to bump into her on the streets of Musa Qal'eh between now and the ball."
As far as Mila's acceptance, Scott said his "initial reaction was disbelief."
"It's going to be a great experience to meet her, and it's going to make the ball more special for everyone," he said.
What can Mila expect at the Nov. 12 gala?
"A lot of Marines who are very happy to be home from Afghanistan, celebrating a successful deployment and the 236th birthday of our Marine Corps," Scott shared.
Watch Scott's touching video invitation, below!