NEWS
Shakira Writes on Education in 'The Economist'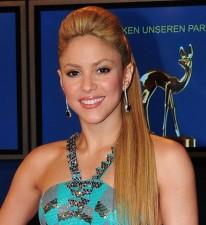 Shakira is more than a hip-shaking vocalist. Her music and rhythm has captivated millions and now the "She Wolf" singer is using her pop star status as a platform for children and education. "I refuse to believe that it isn't possible to educate every child" Shakira writes in The Economist.
"By establishing a Global Fund for Education in 2010 we will invest in these children's future — and help to secure our own," she continues
Article continues below advertisement
Shakira has become a siren of hope for children. She reveals her own predictions for the year to come in The Economist's 24th edition of The World In, an annual publication that identifies the issues and events that will set the agenda for the coming year. The international singing sensation and founder of the Barefoot Foundation has identified education as the greatest opportunity for change and development in most nations.
"My foundation in Colombia, Pies Descalzos ("Barefoot"), has proved that the poorest children can be educated," Shakira says. "For less than $2 a day per child, our schools provide food, education and counseling services to thousands of students. Our schools help underprivileged children grow in sustainable ways and provide them with the tools they need to break out of the cycle of poverty.
Shakira was inspired by her childhood growing up in poverty stricken Columbia. She has reached out to the poorest children in her home country, ensuring that over 5,000 students are directly served through schools established by her foundation, with 30,000 people benefitting from other programs offered.