NEWS
Shanna Moakler on Miss California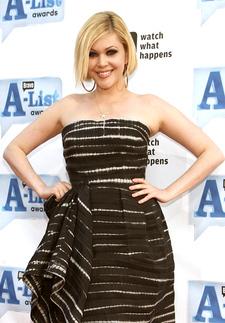 This weekend, Miss California, Carrie Prejean, started a whirlwind of controversy by her response in the interview portion of the Miss USA pageant, when she said marriage should only be between a man and a woman. Perez Hilton had asked whether more states should allow gay marriage, and why or why not.
While news pundits and experts are busy debating and interviewing Prejean, a tried and true pageant expert, former Miss USA Shanna Moakler, is also weighing in on her blog.
Article continues below advertisement
As the pageant director the Miss California competition, Shanna had been promoting Prejean in Las Vegas leading up to the event, and now she feels the need to clear things up from her perspective.
"Well, I just got back from a interview at CBS, and I can say after not sleeping for about 2 days and trying to sum up emotions in a 30 second interview wasn't easy, I wanted to take to my blog so I can put into words my thoughts and feelings, I find writing is best for me anyway," she writes on her official blog.
"First, I want to be clear on the fact, that I have NOT and will not abandon our reigning Miss California, thou I have a STRONG difference of opinion, I do NOT hate her, nor do I have any issue with her stating her opinion, she is not the first conservative christian titleholder to be in pageants. I agree with the majority that this IS what makes our country great and that is of course freedom of speech. She was asked a questioned and she answered it.
Article continues below advertisement
But I want to explain to the masses, what the TITLE of Miss USA stands for to me, and being a former Miss USA, I feel I have a pretty good sense of it. Miss USA travels the world and she competes at the Miss UNIVERSE pageant as a representation of her country. She is a ambassador, a role model and needs to be able to show diplomacy on all issues. sadly for California THIS is where we lost the crown. Not for her answer or even her beliefs, because again, sadly IN California her beliefs at this point in time are the majority. But she lost the crown because she wasn't able to convey compassion for ALL the people that as MISS USA she would be representing. and if YOU like it or not, gays and lesbians make up this country as well. THIS is why we have judges so they can find the RIGHT woman who obtains these qualities. they are crucial in my eyes when holding a honor and title as big as being Miss USA. The panel of judges was qualified and did their job, they represented all of us, men, woman, black, white, gay and straight.
I think Miss California's willingness to stand by her convictions and ( in my eyes, simply made the question more personal then it needed to be,) has in essence made a great positive impact cause it has brought a issue important to me to the for front of the media and that is civil rights. I have blogged and petitioned for gay rights in the past and if anything positive can come out of this, It's that it has people talking and we need to have people talking and we need MANY conversations on this topic to take place, especially in the state of California and with Prop 8.
I do however want to apologize to the men and woman who have continually supported the Miss California USA pageant. I know some were hurt and felt a sense of betrayal, but I thank you for your understanding, communication, love and continued support.
shannaxoxo
Health, Wealth and equality for all."