NEWS
Shannen: Brenda Won't Overstay Her Welcome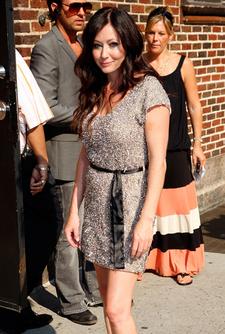 Let's face it: 90210 just isn't 90210 without Brenda Walsh. Thankfully, Brenda's alter ego, Shannen Doherty, feels the same way, returning to West Beverly High as a drama teacher on the CW's new show about a new crop of students living in the now infamous zip code.
In an interview with ET, Shannen reveals what the years away from 90210 have taught her, and why she plans to only do four episodes of the new show.
Article continues below advertisement
"I think there's such a thing as overstaying your welcome," the actress says. "I don't want to do that. I want fans to walk away with love in their hearts for Brenda."
Doherty says it was the fans that convinced her to return to the zip code she helped make famous.
"I've worked for 27 years and I've been given a lot of extra chances," she says. "The only reason I've been working this long and this successfully is because I have fans that follow me from show to show to show."
Of her years in the spotlight, Shannen says she's learned a few things, which she's happy to pass on to her young co-stars.
"You have those moments where you're like, 'Oh my God I'm on top of the world,'" she says. "It takes a good foundation and a good base to knock you back down to reality. For me, that was my parents."