NEWS
Shannen Doherty: Bad Girl No More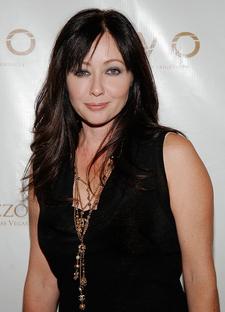 Former bad girl Shannen Doherty has a new outlook on old pals, thanks to her turn on the CW's revamped 90210.
The 37-year-old actress, who recently crashed at the W hotel's $4,000-a-night Extreme WOW Suite in NYC while hunting for apartments, revealed to OK! what she loves most
about reprising her role as Brenda Walsh on the TV hit.
"Working with Jennie Garth this time around has been unbelievable," Shannen tells
Article continues below advertisement
OK!. "I regard her as a true friend."
Shannen admits that unlike in the past when the pair was rumored to have fought, she now looks forward to acting with Jennie, aka Kelly Taylor.
"Our scenes are always really good. We work really well together, and we just like each other," she says. "People come to different places in their lives, and you meet up," she says of her change of heart. "Suddenly, it's like, 'Oh, my god. I like you!' "