NEWS
Shannen Doherty Dishes on 'DWTS' Nerves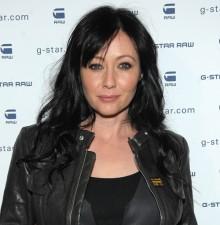 Shannen Doherty chatted with Ryan Seacrest this morning on his KIIS FM radio show, and she was a bundle of nerves! "I feel so sick," Shannen told Ryan as she was driving to the Dancing with the Stars studio. The 38-year-old actress dished on why she finally said yes to the hit reality show, and being part of the most drama-filled cast yet (as she and Pamela Anderson share an ex)!
"I'm driving there at the moment, and I don't know what I'm going to do about this. My stomach is a mess. I'm like, 'I can't. I can't. I can't.' I don't know what I'm going to do," Shannen — who breaks out in hives in front of live audiences — told Ryan about her debut on the DWTS stage tonight.
Article continues below advertisement
The former 90210 bad girl will be performing the Vietnamese Waltz on tonight's premiere with partner Mark Ballas. She said she finds the dance difficult because she's "not the most graceful girl in the world... more of a sports girl."
"There is a lot of pressure there, because he Mark has had great partners in the past and won twice, and I don't want to let him down," she said of her partner. "I adore him."
So what provoked Shannen to say yes and surmount her fear of live audiences?
"On Christmas, my dad had a massive stroke, and he lost his ability to speak and a lot of his mobility," Shannen reveals. "It was really rough. When I mentioned Dancing With the Stars as a joke because I'm so nervous in front of a live audience, he got really excited...and we kind of struck a deal."
Article continues below advertisement
"He is going to go in there and work really hard on regaining his speech and mobility, and I was going to get over my fear of a live audience."
Shannen definitely joined the cast for the right reasons, and we can't wait to see her compete!
Who is her biggest competition?
"I think Nicole Scherzinger is amazing," Shannen said. "Not only is she really, really nice but she is a dancer."
"I think Evan being an ice skater is going to do fantastic."
Shannen did admit she is part of one of the most-talked about casts in DWTS history.
Shannen and fellow competitor Pamela Anderson were married to the same guy, film producer Rick Solomon, and both had their marriages annulled.
When Ryan questioned Shannen about their relationship on set, she responded that they were friendly, and Pam is working very hard.
Shannen has yet to meet Kate Gosselin, so could not comment on her demeanor on set!
Tune in tonight at 8 p.m. for the premiere of DWTS on ABC.
CLICK HERE FOR ALL OF OK!'S DANCING WITH THE STARS NEWS & PICS