NEWS
Shannen: Joking With Jennie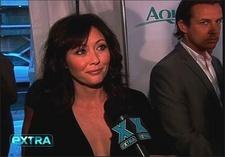 Nobody played such a goodgirl onscreen with such a real life bad girl reputation off screen like Shannen Doherty – and now she's back.
Shannen returns as Brenda Walsh, joining rumored "frenemy" Jennie Garth on The CW's new 90210, but she says there's no bad blood between the two.
"It's been a really nice experience, "' she tells Extra of the experience. "We already have our little inside jokes."
Jennie reprises her role as Kelly Taylor in the popular zipcode, and she's quick to quash any buzz of on-set feuds.
Article continues below advertisement
"No crazy drama's going on," she insists, although she would love to see Tori Spelling back as Donna Martin. Negotiations between Tori and the show's producers over her fee to appear on 90210 have been slow going lately.
"I'm really sad that it hasn't happened yet," Jennie says, "And I'm very hopeful that it will happen."
Catch interviews with the rest of the cast of 90210 airing tonight on Extra, and for a look at the new cast of 90210, check out the OK! gallery.