NEWS
Shannon & Derek: Romance or Showmance?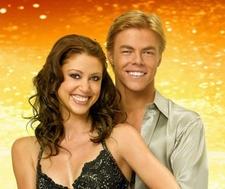 Only days after they were photographed in mid-liplock on a California beach, the question on everyone's mind at Monday's Dancing With the Stars taping was: Are Shannon Elizabeth and Derek Hough for real? Or are they just doing it for reality TV?
Of course, ABC only helped to fuel the flames on their hit reality show by airing a steamy video package of the sexy American Pie star and her pro dancer partner in each other's arms on a Malibu beach, allegedly trying to create chemistry for their rumba.
Article continues below advertisement
The pair's body language was so obvious that DWTS hostess Samantha Harris even grilled the couple about their relationship on camera. And despite the caught-on-camera smooching, Derek insisted that they were just getting into character for their sultry dance.
Is anyone buying that story? Certainly not the couple's competitors, who were already wishing the pair well.
"It's great," Kristi Yamaguchi's dance partner — and Derek's roommate — Mark Ballas told OK! "He's single; she's single. Nice work, mate!" Mark, who said he barely sees Derek these days because of their respective busy rehearsal schedules, added, "If it is a romance, awesome."
Actor Cristian de la Fuente, who is dancing with Cheryl Burke, said, "If it is, it's great for them. But what happens on the beach stays on the beach!"
Singer Mario and his partner Karina Smirnoff were previously rumored to be a couple earlier this season, but staunchly denied it. About Shannon and Derek, Karina told OK! "If that's true, we're excited for them. We're excited that people are actually talking about somebody else but us. Yay—the heat is off!"
Article continues below advertisement
Meanwhile, Mario and Karina kept their heat on the dance floor with a hot rumba routine that had judge Len Goodman calling them a "strumpet and a gigolo." Karina huffed, "Does Len know it's a family show?" Mario said he wanted to defend Karina's honor: "I was a little pissed. For a moment, I had hot flashes!"
The routine could have even been sexier, the pair revealed— Originally, Mario was supposed to rip off the sheet worn by Karina during the dance, exposing her very... um, brief, costume underneath. "My parents are here and my mom said, don't do it," she explained. "It's a little too much."
Still, Mario and Karina earned a score of 28 for their rumba, while Shannon and Derek got only 24 for theirs. Is the real chemistry happening behind closed doors, though? Stay tuned.
By Carole Glines