NEWS
Shawn Johnson's Broken Trophy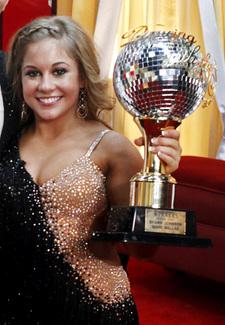 Shawn Johnson's Dancing With the Stars victory has fallen to pieces... really. While she's still the champ, her mirrored disco ball trophy is currently being repaired.
"It's actually in pieces right now," her pro partner, Mark Ballas, said at the MTV Movie Awards. "We had to take them to New York and they shipped them back and when they opened the box, they were in pieces," he continued. "They're fixing them."
Article continues below advertisement
Shawn called her partner up right away with the news. "I was like, 'My trophy's broke!'"
Since Shawn nabbed her (now broken) award, she's been looking into getting some acting done.
"I've been offered some opportunities to do movies or TV shows," she said. "I'm not sure what I'm going to do yet."
Ballas, meanwhile, said he will be back on DWTS next season if producers ask him to return. His best buddy and fellow dancer Derek Hough told me early last month that the two weren't sure they would return.
"If they get a cast full of six-foot women," Ballas said, "then I can't do it."